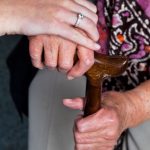 If you are a person who has a sickly older parent or adult child, you may want to consider a home health aide to come to your home and assist. A home health aide can remove many of the burdens from you and your family. Such a person can help you in these areas when you are incapable of doing it yourself:
Companionship
One of the most important things that people need when they get home care assistance is companionship. People who are confined to the home often need to have someone around that they can talk to about their desires, frustrations and other topics. A home health care nurse or aide can be that one friend that the person never had.
Hygienic Tasks
Trying to do hygienic tasks is an area of frustration for some people who are stuck in the home because of an illness. The home health care nurse can assist that person by helping him or her with duties such as bathing, shaving and other personal tasks that every person has to perform at some time or another. The client may even need help brushing his or her teeth from time to time.
Physical Tasks
Some of the physical tasks that a person may need help doing are getting dressed, getting out of the wheelchair, exercising and other activities. Home care agencies can send someone who is quite strong to help with those activities.
Cooking and Laundry
Cooking and laundry activities are activities that you would have to discuss with the person who is providing the service. Some aides may be happy to cook for the client as a part of taking care of him or her, while others may not want to get that heavily involved. You have to ask for exactly what you want to get out of these services so that you will be able to receive them.
How to Find the Best Home Care Agencies
If you want home care assistance, you will need to use a system that helps you find the best people to do the job for you. What you want to do is first ensure that you conduct research on the website. See if the company has a BBB rating, accolades, accreditation or something similar. Check the services and see if the ones that you desire are listed. Speak to someone who is offering the services to see what's going on.
You and your family can have the stress greatly relieved from your home if you consider hiring the services of one of the previously mentioned persons. You will be able to complete more of the tasks that you need to complete and your ill family member will be happy.