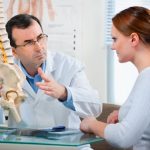 Chiropractors are health care professionals who diagnose and treat neuromuscular disorders. A chiropractor treats these disorders using manual adjustments or physical manipulation of the spinal cord. They also provide necessary information to patients on how they can improve their health through ergonomics and exercises. Chiropractic therapy is mainly categorized as an alternative medicine in most countries.
1. Belief and goals
Chiropractors focus on the relationship that exists between the spine and the nervous system. The chiropractors believe that any disarrangement of the spinal cord can have a great impact on the nervous system. It is also a common belief among many chiropractors that the chiropractic treatment can bring relieve to the neurological tissues and also boost the integrity of the spine. This is done to improve the general health of an individual.
The primary goal of chiropractic treatment is to bring back the normal spinal mobility. Improved spinal mobility gets rid of any irritation on the spinal nerve.
2. Chiropractic examination
In most cases, the chiropractic examination done on patients is similar to the regular examination procedures that are done by all health professionals. A chiropractic examination has three parts such as consultation, sickness history and physical examination. In most cases, laboratory analyses that include X-ray are performed. During the consultation, the specialist will be interested in knowing from a patient the frequency and description of the symptoms. He will also be curious about what makes the patient feel better or what aggravates the pain.
Case history involves a professional identifying the areas causing complaints. This is achieved by asking the patient numerous questions, which will enable the chiropractor to know various areas of the client's life such as dietary habits, work history, psychosocial history and family history.
During a physical examination, a chiropractor utilizes various methods to know the spinal segments that require treatment. Diagnostic tests can be used such as an X-ray. An X-ray is used to identify any subluxations or partial dislocations. A device that measures skin temperature in the spinal areas can be used to determine the areas that should be manipulated. Most of the chiropractors make use of biomechanical and holistic concepts in their treatments.
3. Chiropractic diagnosis
After diagnosis, chiropractors can categorize ailments into various categories such as potentially dangerous, nerve problems or nonspecific diagnosis. Potentially serious diagnosis includes infection, fracture, tumor, severe neurological problems or a joint disease. If cases of potentially serious diagnosis are reported, the chiropractors usually refer the patient to a health facility.
In less severe cases, a chiropractor can use numerous treatment methods such s chiropractic adjustments. Chiropractic adjustment involves the application of manual manipulation to the vertebrae of the patient. The primary objective of this therapy is to increase the range of motion in the affected region. For more information, there are some helpful resources on the Chiro-Med website.